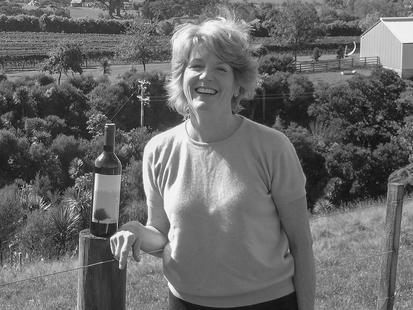 Judy Fowler
MBA '81, Owner, Puriri Hills Vineyard
Industry
Entrepreneurship
Judy Mundy Fowler (MBA '81) founded Puriri Hills Vineyard and Lodge in Clevedon, New Zealand, in 1997. The vineyard, winery and small lodge are located in the village of Clevedon, near Auckland. The winery is dedicated to vinifying fruit from five acres of meticulously tended merlot, carmenere, cabernet franc, cabernet sauvignon and malbec grapes. Puriri Hills' award-winning wines are distributed in Japan, the United States, Europe, Australia, Hong Kong and Singapore.
After graduating from Darden in 1981, Fowler became the marketing manager for several entrepreneurial businesses within General Electric, centered on technical materials for fiber optics, semiconductors and superconducting magnets for medical imaging. She then became the first director of marketing for University Hospitals of Cleveland. After several other jobs, she moved to New Zealand in 1996.
Fowler holds a Bachelor of Arts in chemistry from Sweet Briar College. As a Darden student, she received the William Michael Shermet Award and the Faculty Award for Academic Excellence. A native Virginian, she is now a citizen of the United States and New Zealand. 
What's a typical day like for you at work?  
There are really no typical days. I work from home, as I live on the vineyard. Generally, seven days a week, four to 10 hours a day. Frequent international travel, wine making, vineyard decisions, marketing, staffing, purchasing, shipping, and all financial and compliance matters. The work changes with the seasons. We are a fully integrated small vineyard and winery that sells wine all over the world, so my partner and I do a bit of everything. 

How did you decide to go into the wine industry?
Great wine and food were always my hobby. After a number of years of corporate work, I decided that I wanted to do something I loved, something that would allow me to continue learning for the rest of my life and about which I had a final say in terms of quality. Starting a vineyard and winery from scratch seemed like IT. 

What lessons did you learn at Darden that you apply to your job on a regular basis?  
Business is really simple. Do it well. Make something customers really want and for which they will pay a bit more than it costs you to make it. Treat people well. Do something you love. Honor your values in your work. And carefully track your money, relative to your goals. 

How has Darden impacted your life?
Darden gave me a chance. I was the first single mother with children to graduate from Darden. When we graduated, the faculty wanted to give my mother and children honorary degrees for their support of me. Through all the toughness and struggles of the program, the teachers believed in me and knew I had something worth cultivating for the world of business. Darden gave me courage. I have never lost it. 

What's the best advice you have ever received?  
From my father: Reach for the stars — dare to dream — you can do anything. 

What's your personal motto?
Life's too short to drink bad wine! (This applies to much more than just wine.) 

How do you measure success?  
Surviving and thriving in the face of adversity. Knowing each day that I have done my best under the circumstances and have honored my values and honored the people I love. 

What motivates you?  
Curiosity, pleasure, accomplishment, love. 

What's the most memorable experience you had as a student at Darden?
Working so effectively with my First Year study group — a very diverse set of people, who each brought so much to the party.  

What's the most memorable experience you've had as a Darden alumna?  
Keeping my vineyard and growing it from strength to strength. I nearly lost it at one point. Yet, today our wines are regarded as serious contenders to the most famous wines of Bordeaux.