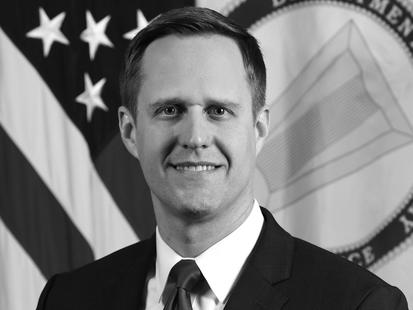 Jonathan Moak
MSBA '19, Senior Official Performing the Duties of the Assistant Secretary of the Army (Financial Management and Comptroller), U.S. Army
Industry
Government/Nonprofit
UVA Master's in Business Analytics Grad Ascends to Top Finance Post in US Army
Jonathan Moak (MSBA '19) calls joining the United States Army the single best professional decision he ever made, helping to complement and propel a career in financial management to the top financial position in the U.S. Army. He was appointed the principal deputy assistant secretary of the Army (financial management and comptroller), and then became the senior official performing the duties of the assistant secretary of the Army (financial management and comptroller) in late October 2019.
Another key decision aiding Moak's career ascent: earning a Master of Science in business analytics (MSBA) degree from the University of Virginia in the initial cohort of the new program, which started in 2018.
Moak graduated from the MSBA program — offered in partnership by the Darden School of Business and the McIntire School of Commerce — on 4 August 2019 and interviewed for the assistant secretary of the Army position just two weeks later. He said a technology-focused master's degree made him a more compelling candidate.
"I just happened to have the right resume at the right time for the job," said Moak, whose new job is considered to be the chief financial officer of the Army. "I also believe this degree made me more competitive."
Moak is an infantry officer who earned the highly coveted Ranger tab, and has served in the Army National Guard since 2005. He is a currently serving reservist in the District of Columbia Army National Guard, and in 2015 deployed to the Middle East in support of Operation Enduring Freedom — Spartan Shield.
His professional career path has included positions with the U.S. Army, Grant Thornton and, until October 2019, Deloitte Consulting, where his work often supported the U.S. Department of Defense.
As analytics tools and programs advanced and became increasingly useful, new hires often had proficiency with tools that were not commonplace when Moak was working toward his academic degrees.
When UVA began advertising the MSBA in the UVA Darden DC Metro location, it seemed like an ideal way to stay current and also prepare for the future.
"I saw it as an opportunity to go and learn how to use these tools myself," said Moak, who described the program as existing at the "nexus of business intelligence and financial management."
Moak called the 12-month program "very challenging and highly rewarding."
"It challenged me to gain a better understanding of concepts I was not comfortable with — everything from the way you learn, to the tools that you're utilizing," said Moak.
Engaging in the case method and learning through discussions with classmates — a diverse group ranging in age from mid-20s to early 50s — was a new experience, and Moak said he learned a great deal about leading conversations and solving problems by watching his professors and classmates in action.
Moak singled out Professor Bobby Parmar, who led courses in ethics and leadership, as helping him consider new ways to interact and lead teams with inclusion and integrity, and Professor Ahmed Abbasi, who led the technical courses in data science, which have enabled his understanding of how to leverage advanced analytics methodologies to improve business operations.
The integrated curriculum features no shortage of technology instruction. Many programming tools, like Python and R, were fairly new to Moak, who eventually graduated with the confidence he needed to lead in a data-rich environment.
When interviewing for his current position, Moak recalled Deputy Under Secretary of the Army Thomas Kelly said: "Talk to me about your coding skills."
Moak was able to describe capabilities that barely existed a year prior, and Kelly was satisfied with the answers.
The fact that the team conducting interviews for the position asked about coding capabilities speaks to the rapid technological shifts underway in large and small organizations. Moak said it was clear the Army was interested in transforming its business operations and developing people with an understanding of operations, financial management and business analytics.
The CFO of the Army now finds himself in a top position concerned with the fiscal stewardship of a $180 billion budget and the development and care of a 700-person team, executing day-to-day financial operations, providing guidance for next-generation technology and conducting cost analyses for information technology and weapons systems.
Moak said the digital transformation of the financial management community in the U.S. Army is not a distant event, but a current and evolving focus for the branch of the armed forces.
"With approximately 17,000 financial managers in the U.S. Army, we will not be doing tomorrow what we are doing today. So the question is: How do we continue to keep ourselves relevant, evolve our capabilities and skills, and keep our seat at the table?" said Moak.
Moak offered several key takeaways from his career journey so far:
Position yourself the best you can to be a competitive candidate for the things you want to do in life by continuously learning.

Be willing to take risks and take on even more than you think you can handle because you will be surprised at your ability to grow.

Grow your network and build real relationships with people, and go out of your way to help others as relationships are everything.
Said Moak, "If you do those things day in and day out, positioning yourself to be depended on and treating others with the same respect that they require or ask of you, I tend to think the moon is really within reach."