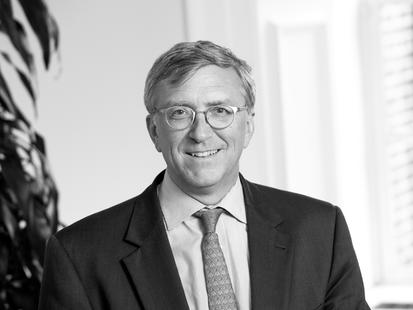 John Fowler
MBA '84, Vice Chairman at Wells Fargo Securities
John Fowler (MBA '84) is Vice Chairman at Wells Fargo Securities. He held previous positions as vice chairman of investment banking at Deutsche Bank, head of Health Care Services Banking at JPMorgan, and head of Health Care Banking at Salomon Brothers. Fowler was also president of Large Scale Biology Corporation, a publicly traded biotech company; a founding partner of Bio-Strategic Directors, a biotech consulting firm; and managing partner of Baycrest Capital, a private equity investment firm. He has served on various corporate boards of directors, including as lead director of Beverly Enterprises, Large Scale Biology Corporation, and Optical Dynamics. He has also served on various nonprofit boards, including Project Reach Youth and Project HOPE. 
Fowler holds a Bachelor of Arts degree and a J.D. from the University of Virginia and received an MBA from Darden in 1984. Fowler serves as the chairman of Darden's Corporate Advisory Board and is a member of the Darden School Foundation Board of Trustees. 

What was your first job? 

I chopped weeds out of a bean field in South Dakota, which motivated me to do well in school. 

What motivates you? 

Fear, greed, college tuition costs, and my wife's spending habits. 

When and where do you do your best thinking? 

On airplanes, where I can't be disturbed, except by screaming babies 

What are you reading these days? 

Keith Richard's Life and Ron Chernow's Washington: A Life. 

In which social networks do you engage? 

Hanging out at the water cooler, walking the floor, and visiting face-to-face with clients. 

What technology can you not live without? 

Electricity and water, as I learned after Hurricane Sandy. 

How do you stay ahead of the competition? 

I put myself in my clients' shoes and give them advice accordingly. 

How do you deal with conflict? 

I ask: "How would Gordon Ramsey handle this?" 

What characteristics do you look for in people? 

People who are intelligent, intellectually honest, street-smart stand up to me and, of course, think I'm funny. 

What are the best things that happened to you in the last year? 

I stayed employed, stayed married, and stayed true to my principles. 

What do you consider your greatest achievement? 

I convinced my wife to marry me. 

Which natural talent would you most like to have? 

I'd like to be able to play golf – 40 years of lessons have proven it's not a learnable skill. 

How do you unwind? 

I am a passionate cook and voracious reader. 

If you could live anywhere, where would it be? 

New York City. 

What's your favorite cause?  

Project HOPE (I am a board member; www.projecthope.org) 

What causes you to lose sleep? 

Both my wife and my dog snore. 
What's next? 

Whatever life throws my way; I'm still trying to figure out what I will be when I grow up 

Which class at Darden impacted you the most? 

"Organizational Behavior": It was my worst grade at Darden, and I never got it, which is probably why I no longer have any direct reports in my current job (seriously). 

Which Darden professor influenced you the most? 

Professor Bill Sihler; He taught me that if you cant get a directionally correct answer with a slide rule, a pencil, and the back of an envelope, the deal probably doesn't make sense. 

Describe a moment when you realized the true value of your Darden education. 

When I met my peers, especially from other MBA programs, at my first post-Darden job at Salomon Brothers.