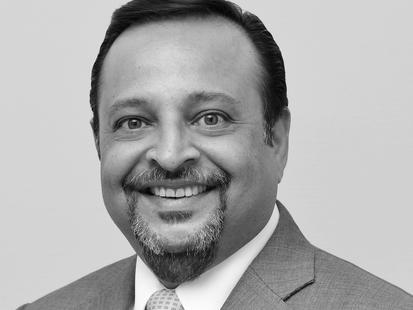 Jay Mulay
MBA '95, Executive Managing Director, Newmark
Jay Mulay (MBA '95) currently serves as executive managing director at the global commercial real estate firm Newmark. He has extensive experience with the real estate market in Mexico, having managed strategic planning, structuring deals and financial analysis and negotiating. Mulay has worked with local developers as well as major international corporations including Chrysler Corporation, Suzuki Motors, McAfee, Logitech, Alcoa and the U.S. Department of State. Prior to earning his MBA at Darden in 1995, Mulay completed his undergraduate work at University of California, Irvine, in Electrical Engineering. He is currently based in Mexico City.
When/how did you first become interested in business or real estate?
The fact is that it was totally by chance. I came to Mexico as a consultant to help establish natural gas regulation for the Energy Regulatory Commission.  After shuttling back and forth between Mexico and the United States for close to two and a half years, I realized I was getting tired of being on a plane and knew that at some point I would have to change jobs if that was going to happen.  I also knew that I wanted to do something entrepreneurial at some point.  I met a team of real estate brokers that were just starting their company and was convinced to join them as a partner in this new venture.  I figured that I could give it a couple of years — that was 23 years ago.
Could you share a little bit about your journey to Darden?
I was working as an Electrical Engineer and was lucky enough to work with a fellow engineer, William Glover (MBA '93), who went to Darden.  On his trips back home he would tell me that he was studying with some of the smartest people that he had ever met and convinced me that I needed to go.  I visited the school and realized that Darden was a really good fit for me.
When you think about your time at Darden, what memory (or a couple of memories!) resonate with you the most today?
I really enjoyed the team work aspect of Darden.  Going through engineering was hard, but I got through with help from my friends.  Coming out of undergrad, I thought I would never have a group of friends like that again. I was wrong, I was able to have a very similar experience with my friends from Darden, friends for life.
What did you learn at Darden that you still use every day?
I use many skills that I picked up at Darden in my daily life.  The keys of running a startup, service industry, foreign exchange, finance, and most of all organizational behavior.  I remember one of my professors saying that after five years in the work force, come back and tell me that "touchy feely" OB isn't important.  He was right, you have to use those skills every day when you start and grow a company and deal with various employees, clients and landlords.
What motivates you and what kind of impact do you aim to make through your work?
This last year has been difficult for commercial real estate in Mexico.  My goal now is to help companies redefine their workplace strategies going forward.  The pandemic has provided people with an opportunity to work remotely, and this is good for some.  The new look for office space will be substantially different from before.  This is an opportunity to for companies to understand their true needs, and I plan on being part of that discussion.
How has the Darden network served you over the years?
The network has served as a good sounding board for me.  I have people that I trust and respect.  The key of having studied to be a generalist helps, but as we all have grown and developed, there are now specialists that one can seek out  to provide specific insight into an issue you might be facing for the first time.
How do you like to give back?
I try to look out for people that could use a mentor.  I really enjoy helping people talk through issues and assist with their plans.  I know that when we were starting our company, I was able to turn to different people to discuss issues, and for me that was very helpful.
What advice would you give to future global leaders?
When you work in a specific market that is different from where you born and brought up, you need to be very aware of cultural differences. I have seen different foreign people try and do business in Mexico with an attitude that they know better than the locals, and that's the best way to get shut down.  Every location is different, and it is important to understand how to deal locally by understanding the people and what is important to them.  For many it is not the money, it's the friendship, comradery, and knowing who you are as a person that is more important that the name of your company.