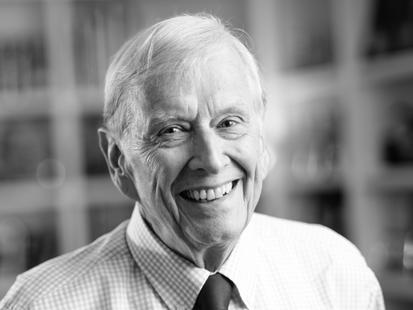 James Todd
MBA '64, President, JWT Inc.
Over the past four decades, James Todd (MBA '64) has worked as a renowned real estate advisor, developer and investor. His experience includes residential, retail, office, industrial, recreational and mixed-use communities throughout the United States and Canada.
As president of JWT Inc., Todd provides consulting and advisory services for the strategic planning of real estate assets. Prior to his current role, he served as president of The Peterson Companies, one of the largest private development companies in the Washington, D.C., area. He is also managing partner of TFP Investments, a private investment partnership. Todd served as president of two other development companies — Gulf Reston and Mobil Land Development — both of which developed the town of Reston, Virginia, for which they received the 1989 Urban Land Institute Award of Excellence.
He is a life trustee of the U.S. Urban Land Institute, a past president of the northern Virginia chapter of the National Association of Industrial and Office Parks and former board member of the Northern Virginia Building Industry Association. Todd has also served on the Fairfax County Economic Advisory Commission, as a director of the Washington Airports Task Force and as vice chair of the Fairfax County Economic Development Authority.
Todd is a double Hoo, having received his bachelor's degree from the University of Virginia's McIntire School of Commerce in 1960. An emeritus trustee of the Darden School Foundation Board of Trustees and Principal Donor, Todd pledged $1 million to the School in 1999 to support case method research and the Batten Institute for Entrepreneurship and Innovation.
He and his wife, Sharon, live in McLean, Virginia.
What was your first job? 
I delivered newspapers — The Washington Post and the [Washington] Evening Star.
What's the best advice you have ever received?  
Tell the truth. 
When and where do you do your best thinking?
At home, when it is quiet. 
What's your favorite book of all time — about business or otherwise?
The Hunt for Red October by Tom Clancy 
Which four living business person(s) would you like to bring together for a private dinner with you? Why?
"President" Donald Trump, Jeff Bezos, Bill Gates and Jack Welsh. All of them have been "change agents" in our business society.
What's your motto?
Remember living under the honor system as your guide. 
What characteristics do you look for in people?
Honesty, friendliness and integrity.
How do you measure success?
Accomplishing one's objectives so that they do not harm others and are positive.
Which natural talent would you most like to have? Why?
The ability to communicate well and positively in person and in writing. There is no substitute for clear communications in business and personal life.
What do you consider your greatest achievement?
That is for others to decide.
Tell us about a treasured possession?
My family and friends, above all.
What music are you listening to lately?
A favorite is Andrea Bocelli.
What do you do to manage your energy and remain balanced?
I walk and play golf with Sharon, and I play tennis twice a week with regular partners.
What are your favorite causes?
University schools I attended, local causes that help institutions and people who are beneficial to our society.
What's next?
I want to maintain an active and healthy life full of family and friends.
Which class at Darden impacted you the most?
Professor Paul Hammaker's classes on marketing and business in general. His business experience and his teaching of most any course was strong.
Which Darden professor influenced you the most?
Paul Hammaker and Almand Coleman 
The case method taught me a fundamental process of how to approach most business problems with an analytical method followed by a strong presentation of my conclusions, written or oral. It is the best method for teaching many subjects, especially business.
What was your most memorable challenge you faced while developing the town of Reston?
The two most significant challenges were developing uses that met the market need and convincing both the general public and the elected officials of the wisdom of such uses.
What's the most valuable lesson you've learned in real estate that could apply to anyone?
Honesty, above all, in your work and life. It has no substitute.