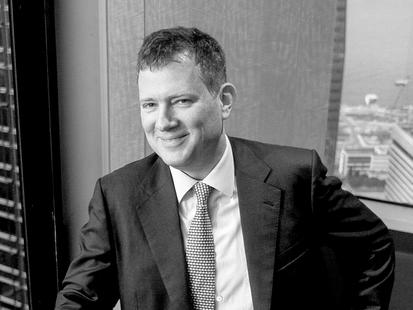 James Chapman
MBA '00, CFO and Treasurer, Dominion Resources
James Chapman (MBA '00) has spent more than 20 years in international corporate finance and mergers and acquisitions, primarily in the power and energy industry. He joined Dominion Resources — one of the largest regulated power and gas utility companies in the U.S. — in September 2013 and was named to his current post as senior vice president of M&A and treasurer in February 2016.
Prior to joining Dominion, Chapman held roles as managing director and head of Asia Pacific Power & Utilities Investment Banking at Barclays, as well as similar senior roles at Barclays and Lehman Brothers. Throughout his career, he has worked with dozens of power sector and utility companies with strategic and financing transactions on five continents. After being based for more than eight years in Asia, five years in New York and five years in Russia, he relocated to his home state of Virginia with his wife and three children in 2013. 
Chapman serves on Darden's Global Advisory Council; is strategic advisor to Virunga Power, a rural electric utility in East Africa; and is on the board of managers of Iroquois Gas Transmission System. He earned a bachelor's degree in history and political science from Auburn University. 
What were your early years like?
My early years were spent in a fantastic, although somewhat sheltered, area just 25 miles outside of Charlottesville in Fluvanna County, Virginia. It was a childhood spent swimming in rivers, playing in the woods and — to my chagrin — working on our very small family farm. Although my kids today can't believe it, I didn't have a TV for a number of years. Although even when we had a TV, we only had two channels at best! 
How would you define your leadership style?
Laissez-faire. I like to recruit team members who are generally smarter and better organized than me, and then step away as much as I can. This allows me to focus my time on providing high-level direction, ensuring the availability of adequate resources, providing political cover when necessary, and planning for career development and other opportunities for team members. 
How do you hire?
Slowly and deliberately. Of course, I have hired quite a number of people over the years, including a number of Darden graduates. In interviews, I tend not to waste time on testing for specific technical knowledge, since the vast majority of people I have interviewed have a solid-enough technical framework to succeed. Instead, I try to tease out drive and motivations, degree of flexibility, well-roundedness and respect for colleagues (including those who are more junior). These latter attributes are those that provide for success — much more than educational pedigree, test scores or even grades.
When and where do you do your best thinking?  

Driving. On many days, I drive from Charlottesville to Richmond (about an hour one-way), and I find that is the perfect time to think and brainstorm. I once read an article written by a fashion industry CEO who felt the same way — she did her best thinking on her long driving commute. When she moved closer to her office, she had to make up other excuses to go on long drives just to get her thinking time in! I can totally relate to that. 
What do you consider your greatest achievement?
Certainly, my greatest achievement was successfully convincing my wife, Karen Kalsi Chapman (MBA '00), to marry me. We met when we were assigned to the same learning team as Darden First Years, and since that time she has continued to be a great partner, supporter and motivator — just like she was on our learning team!  
What was it like to work in corporate finance in Moscow just a few years after the dissolution of the USSR?
It was a crazy time, and it was totally fantastic. While that was a very difficult time economically for many Russians and other citizens of the former Soviet Union, it was fascinating to see people react and adjust to a totally different and new reality of capitalism and democracy. There was an insatiable appetite for information and context regarding the "outside world," as most people hadn't been allowed to travel internationally until that point. And it was a rare period of international friendship and cooperation between Russia and the United States. I learned so much during my five years there about people, business, economics and foreign affairs. I wouldn't trade that period of my life for anything.
What's next for you?
After working for years at a time in some pretty fantastic locations — including New York, Hong Kong and Moscow — I have managed to settle back into life in Charlottesville, where I have a great balance between an interesting, rewarding career and a great community in which to live and raise our three kids. I am lucky to even have the opportunity to help lead a few finance case studies in the Darden classroom every year and interact with full-time MBA students (who seem to me to be younger and younger every year, although I know that's not the case!). So I hope that what's next for me is more of the same.