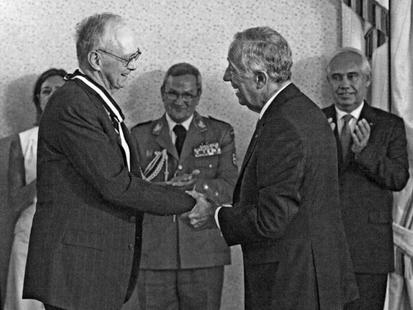 Jack Cann
MBA '70, Research Fellow, Marine Corps University
Industry
Education/Research
From US Navy Pilot to Portuguese Knight
by Melissa Castro
For the past 50 years, one could call Dr. John P. "Jack" Cann (MBA '70) a gentleman, scholar and even "captain, my captain." As of September 2019, you can add "Sir John" to the honorifics.
 
Actually, "Dom Joao" might be more appropriate, since Cann was awarded knighthood in Portugal's Order of Prince Henry, a decoration established in 1960 to recognize outstanding contributions to Portugal and its culture.
Just how, exactly, does a UVA undergraduate and Darden alumnus with an eclectic career find himself feted by Portugal's president and a handful of aging veterans?
To explain his journey from Charlottesville to Lisbon, Cann settles into the antique wingback chairs in his home overlooking the Rivanna River's quiet South Fork reservoir outside Charlottesville, Virginia. "After I graduated from the University of Virginia and its NROTC program in 1963, I went to flight training and got onto a squadron. They fly you to death and you have no life other than flying, and you're exhausted. I thought maybe there's something to this, you know, being a 'captain of industry' thing instead."
He decided to attend Darden to stay close to his family in Virginia.
Cann says Darden's MBA program taught him how to define, analyze and approach a problem. "That was the biggest takeaway for me. How do you seek solutions? And how do you execute those solutions?" Cann said. "By the end, you feel like you're ready to be the king of the mountain."
Ultimately, though, the military's allure drew him back. "I missed flying. A squadron is like a fraternity. So I went back and began flying again with the Navy."
He would fly for another 20 years, including service in U.S. Operation Desert Storm.
Then, at age 50 — when many servicemen would have taken their pension and retired to the squash court — Cann took aim at an academic career that would draw upon his years of experience with military strategy.
He picked up a master's in national security studies from Georgetown University, but he was thirsty for more knowledge. Early in his military career, his squadron had conducted anti-Soviet operations out of a Portuguese base in the Cape Verde islands. The U.S. was fighting the spread of communism in Vietnam while an authoritarian Portugal concurrently was fighting African insurgents to retain its 500-year-old colonial power there.
"Of course, [Portugal's war] was totally overshadowed by Vietnam. Nobody had ever heard of it; I couldn't even find anything on it in the Pentagon library."
That's because, in the wake of the sudden collapse of Portugal's right-wing dictatorship in 1974, the incoming government immediately abandoned the colonial wars in Guinea-Bissau, Angola and Mozambique. "It was just panic-stricken; it was just, like, 'Where's the ship? Get on it and go now!'" Cann said. "In that chaotic exodus, most records were abandoned or destroyed."
Some, however, made it back to Lisbon.
So, after retiring at age 52, Cann applied and was accepted to the war studies doctoral program at King's College in London, for his proposal to recreate the missing history of Portugal's use of military power to preserve its African empire.
Splitting his time between London and Lisbon, Cann learned to speak Portuguese and then pieced the Portuguese military's history back together, meticulously, interviewing military officers and spending months in document warehouses. He also admits to consuming "countless bottles of wine" during his research, and he somehow found time to learn to row well enough to join the exclusive Leander rowing club during his time in London.
Cann's doctoral research would go on to produce nine books on the Portuguese colonial wars, despite taking nearly 10 years off from writing while serving as a professor at the Quantico, Virginia, military base.
Portuguese military heads have repeatedly expressed their gratitude for Cann's efforts to piece together that lost period of the nation's military history. His publications have earned him five different Portuguese national writing awards for the military history genre, with the knighthood being the most recent recognition.
At age 78 and a survivor of kidney cancer, Cann is still unstoppable at the dawn of a new decade. He rows his single scull out on the reservoir until the average temperature drops below 40. When he was summoned to Lisbon to receive a knighthood in September, he was fighting off infections from a recent surgery.
"I wasn't quite myself, but in any event — I went."