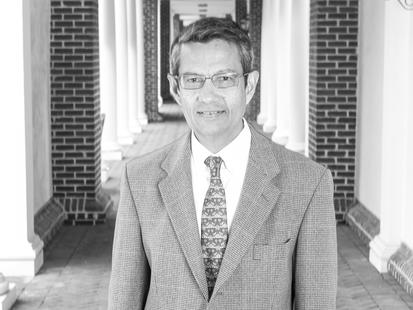 George Tahija
MBA '86, Commissioner, PT Austindo Nusantara Jaya Tbk
Industry
Government/Nonprofit
George S. Tahija (MBA '86) prefers the solace of nature to the noise of everyday life. So after his parents passed away in 2002, the commissioner of ANJ Group's Indonesia unit took up a new hobby — mountain climbing. "It's part of a greater exploration," he said of his treks. "Within and without."
In just a few years, Tahija had become an expert climber, conquering three of the Seven Summits of the world: Mount Kilimanjaro in Tanzania, Mount Elbrus in Russia and Puncak Jaya in Indonesia, all of which are the tallest mountains on their respective continents.
In 2005, Tahija documented his journey from Sentani to the Grasberg peak in his travel diary, and in 2006 he produced a scrapbook-like travel account of his maritime ventures to Indonesia's remote eastern islands. 
He says his adventures tackling some of the most treacherous slopes in the world have made him a better and more balanced leader.
Lesson One: Nothing Is Ever as Good or Bad as It Seems
Tahija's attempted to ascend Aconcagua in Argentina, the highest mountain outside of Asia, but his climb was cancelled due to inclement weather. With his disappointment came an epiphany.
"I had found the meaning I was looking for," he said. "And it had nothing to do with the summit. In fact, 'the summit' was not the summit of the mountain — it was the camaraderie of the team."
Lesson Two: Don't Try to Scale Too Many Mountains at Once
Tahija doesn't anticipate attempting any more of the Seven Summits. Instead, he is more focused than ever on enriching the lives of his fellow Indonesians through his work.
"The challenges we face as a country are endless," he said. "I choose to focus on education, health care and the environment."
A serial co-founder of nonprofits in Indonesia, he established the Dharma Bermakna (Meaningful Deed) Foundation in 2012, which is developing a cognitive assessment test battery to identify strengths and weaknesses in Indonesian children ages 5 to 18. On the environmental front, Tahija serves as chair of the Coral Triangle Center — an organization dedicated to the preservation of marine-protected areas — and as a member of The Nature Conservancy's Indonesian foundation and its Asia Pacific Council.
Tahija is also the co-founder of the Tahija Foundation, which — together with Gajah Mada University of Indonesia and Monash University of Australia, launched the Eliminate Dengue Project Yogyakarta in an effort to find long-term, environmentally safe solutions to the mosquito-borne disease.
Lesson Three: Balance is an Act of Meditation
Busy though he is with the complexities of business and philanthropy, Tahija's yardstick for success is refreshingly simple: "Success is being loved and respected by my wife and children, and being seen as a role model by friends, family and work peers," he said. "It's going to sleep with a clear conscience and waking up with enthusiasm to embrace life."
Tahija, who suffers from what he calls "duty affliction," is actively working on transition out of his family business so he can "discover new horizons and allow myself to be discovered."
Instrumental to that goal is maintaining a balanced life. While he has gotten better at achieving it, he acknowledges "being balanced is a constant meditation. I have to work on being above the noise of life."
His aim?
"To achieve in the future is to learn to be in and appreciate the present," which, as Tahija well knows, is the only thing you can focus on when you're 19,000 feet in the air.