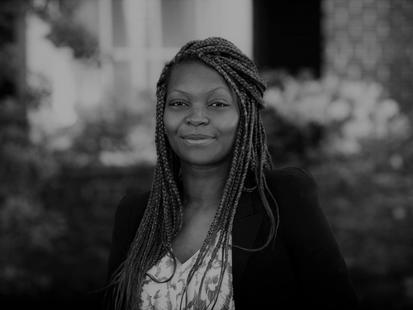 Gaelle Mawadjou
MBA '17, Assistant Vice President, M&T Bank
A native of Cameroon who has lived in the United States for just over a decade, Mawadjou said she had long known that public speaking was not a strength, recounting multiple times when working at Citi where she felt like the most knowledgeable one at the table, but would remain voiceless for fear of speaking up. 
In the first few months at Darden, however, Mawadjou attended a women's leadership event at the headquarters of M&T Bank, and surprised herself by being the most vocal participant – an early indication of the transformation underway.
"One thing I wanted to address in business school was my ability to speak up," Mawadjou said. "With the culture at Darden, I knew that I would have a platform to step out of my comfort zone."
While coming to Darden from New York City represented a step into the unexpected, it was a modest one compared to previous moves.
Mawadjou immigrated to the United States from Cameroon in 2006, following her mother in the pursuit of what she termed "the American Dream."
"I had never been out of Cameroon, and it was a great cultural shock," Mawadjou said of New York City. "But I had to adapt."
A few weeks after arriving in the U.S., Mawadjou secured a job as a cashier at the Home Depot's flagship Manhattan store, a position she held for three years while attending nearby Baruch College.
After college, Mawadjou held a series of corporate positions at Citi, but eventually realized she wasn't getting all she wanted out of a career.
"It was a great job, but I felt an emptiness in the fact that my day-to-day work was missing social impact," Mawadjou said. "I decided to get an MBA to make a transition to work for a community bank with a long-term goal of working in impact investing in Central Africa."
In addition to being attracted to Darden's case-study method, Mawadjou, who went from the big city of Douala, Cameroon, to the metropolis of New York City, said a "quiet" college town was exactly where she wanted to pursue her MBA.
At Darden, Mawadjou, now a U.S. citizen, said she felt like an international student but not an outsider, and intensive meetings with her learning team set the tone for her experience.
"I really loved my learning team experience," Mawadjou said. "You need to work on cases yourself, but then you get together with your learning teammates to discuss the cases and share your perspective and gain other perspectives. Having discussed all the points, you're more comfortable in class speaking up."
Today, Mawadjou said she still considers herself among the quieter members of her Darden class – potentially a vestige of her cultural heritage, she thinks. The difference now, however, is she's always ready and able to contribute when asked or needed.
"I'm still shy, but I'm doing much better," she said. "There's nothing blocking me. I used to go completely blank every time I had to speak up. Now I'm definitely more confident."
Mawadjou points to the academic environment, the supportive and collaborative student body and "the expectations the School has of its students," as top selling points of Darden. She mentions "Leading Strategic Change" and "Organic Growth" as particularly impactful courses, and is thinking ahead to their uses in her long-term goal of finding a job in impact investing in Africa.
"I feel like I have been given so much and that I can have a real impact there," Mawadjou said.  "I want to help enterprises create social impact."
In the near term, Mawadjou will head to New Jersey this summer to work as a relationship manager at M&T Bank, advising businesses in the $10 million-to-$500 million range. 
Mawadjou said she expects to return to Darden frequently as an alumna – likely on behalf of M&T – and has been advocating for the School to recruit prospective students and friends in the African community in New York City.
The first person in her family to attend high school, college or receive an advanced degree, Mawadjou said she's indebted to Darden for both making her attendance possible and facilitating her growth.
"I come from a very modest background," Mawadjou said. "Business school would have been just a dream for me if Darden hadn't offered financial assistance. I'm forever grateful for what would have been a dream, turning to reality."