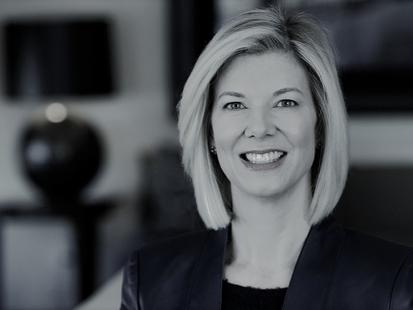 Elizabeth Weymouth
MBA '94, Principal, Grafine Partners
Darden's First Female Board Chair on Finding Opportunities Off the Beaten Path, a UVA Education and What's Next
Elizabeth Weymouth (MBA '94) is poised for a monumental year as she launches a Manhattan-based alternative investment company and concludes her action-packed, three-year tenure as the first female chair of the University of Virginia Darden School Foundation Board of Trustees.
Pushing boundaries is nothing new for Weymouth, who has leveraged her drive and intellect to become an influential force in private equity and asset management. Weymouth started her career in London as an oil and gas insurance broker for Willis Corroon, working primarily in Lloyd's of London. After graduating from Darden in 1994, she joined J.P. Morgan and was soon running the largest investment business at the Private Bank, investing for the firm's wealthiest clients and directing a team of 70 that managed more than $80 billion in client assets and generated $350 million in revenue. Prior to starting her own business, she was a partner at the energy-focused private equity firm Riverstone Holdings, where she helped build and grow the firm while securing $27 billion of capital from global sources.
At Darden, Weymouth has led the board of trustees as the School prepares for the fall public launch of a major fundraising initiative, in support of UVA's $5 billion Honor the Future campaign to commemorate the University's Bicentennial.