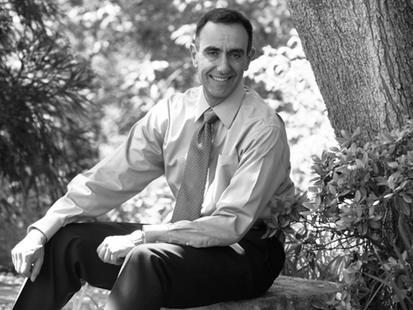 Elie Maalouf
MBA '89, CEO, The Americas InterContinental Hotel Group
When Elie Maalouf (MBA '89) graduated from Darden, he entered real estate — an industry in a steep decline where companies either failed or restructured to survive.
"I observed and learned the rare and high value of cool nerves and good judgment," he said of the time. 
Now, as CEO of The Americas for InterContinental Hotel Group (IHG), one of the world's leading hotel companies, Maalouf has put his mastery of staying calm under pressure to work. Based in Atlanta, he leads the management, growth and profitability of the company's largest operating region.
Maalouf's leadership style has been informed by his diverse background. "Having a range of experiences, while still completing a track record in each, is an important balance in order to grow and build real expertise, not just a resume," he said.
Since joining IHG in January 2015, Maalouf said he has found the culture to be "open, warm and friendly, while competitive and driven," which he believes is instrumental to the company's success. "We are embarking on very meaningful and valuable innovations and having fun doing it."
For Maalouf, introducing the latest technological advances to customers is one of the most enjoyable aspects of his position. "Looking ahead, we are bringing in a next generation reservation system to expand choices, super high-speed connectivity to our guests, and in-room entertainment technology compatible with our customers' devices and programming," he said.
Maalouf regularly applies the sharp decision-making skills he honed in his Darden learning team. "There is usually more than one good answer to a problem, and working with others is a better and quicker way to get there," he said. "It's what you spend a lot of time doing at Darden, and it becomes wired in you, like a lifetime gift."
Prior to his post at IHG, Maalouf was a senior advisor with McKinsey & Company, where he worked with travel, hospitality and real estate clients on global projects. Before that, he spent over a decade in various leadership roles, including for six years as CEO at HMSHost Corp., a global travel and leisure developer and operator of food and retail in airports, motorways and other travel destinations with 2,300 stores in 14 countries. Before joining HMSHost, Maalouf worked for eight years at Weyerhaeuser Real Estate Company, one of the largest home building and master planned community development companies in the U.S.
"I've always been in roles where we are creating places where people have experiences," said Maalouf. "In my real estate career, it was offices and homes. Then in global travel retail, it was branded restaurants and shops. Hospitality brings together the property, travel, brand and international roles I've had to create the ultimate places where people have experiences."
For Maalouf, the most rewarding experiences of his life have revolved around his family and friends. "I make time for the important people and interests in my life, and I think it makes me a better, or at least a happier, leader."