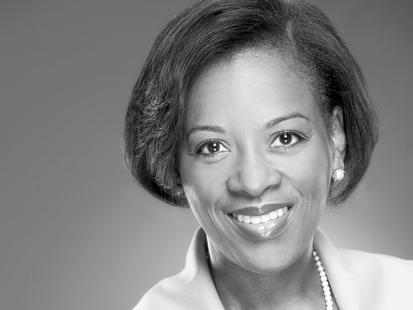 Deborah Wilson Thomas
MBA '89, Chief People Officer and Senior Vice President, Somos Inc.
Deborah Wilson Thomas (MBA '89) never set out for a career as a human resources leader.
Coming to the University of Virginia Darden School of Business with a background in finance, Thomas hoped to manage pension plans after earning an MBA. When Professor Emeritus James Clawson saw particular strengths in Thomas and encouraged her to pursue further study in organizational effectiveness and organizational development, she considered it.
And when Thomas realized that the primary clients of the pension plans she had been pursuing were essentially HR organizations, she decided she might be approaching her future from the wrong direction. 
"Everything kept directing me to HR, even though I had no plan of any kind to come into the area," said Thomas. "So eventually I said, 'let's stop fighting this,' and it proved to be the best thing for me — and I've proven to be really good at it."
Thomas' resume certainly points toward a proficiency in the field, with steady upward trajectory at major corporations, including AT&T, Cox Communications, Assurant and now Comcast, where Thomas serves as vice president of talent for the technology division of one of the country's largest communications and entertainment companies.
In her work at Comcast, Thomas supports the technology and product divisions for the company, an experience that often involves partnering with leaders to identify top personnel, plan for potential successions and generally assure the readiness of the company's management to lead effectively into the future.  
Thomas is also at the center of the conversation over diversity in corporate America, particularly in the technology space.
"For us here at Comcast, we think about diversity very broadly, particularly in an innovation environment," Thomas said. "We think about it as doing our very best to have the faces and voices of our customers present in the room when solutions are being developed."
Thomas says representation is only half of the conversation, however. An effective working environment also requires that all voices in the room are comfortable speaking up.
"You can have diverse teams where people are not empowered or where their voices are silenced. If they're not engaged as full team members, it doesn't matter," Thomas said. "I think the combination of the diversity of the team and the culture that allows all of those voices to be valued and heard is critical."
From the outset, her Darden background set her apart from peers in her sector.
"My work at Darden and the general management exposure there helped me have a unique point of differentiation from many of my peers when I entered the field because of my analytical capabilities and because of my broad business knowledge and because of the MBA," Thomas said. "At the time, that was very unique for a person who was coming into the HR field."
The capabilities she acquired have proved imminently useful, but Thomas said the experience itself was not always smooth. She described enrolling at Darden as her "best-worst decision."
An Arkansas native who largely grew up in Delaware before attending Hampton University, Thomas was 23 when she began Darden, with just two years of work experience compared to the five to seven of most of her peers. While course material came fairly easy to Thomas, the cultural fit proved to be a challenge at a time in the late 1980s when the School was less diverse than it is today.
"I was so young, and I was learning so much about myself at the same time that I was learning everything else," Thomas said. "I was growing up and at the same time moving at this incredible pace because of the demands of the program."
Still, the results of the work were evident even at her summer internship, in which Thomas felt capable of handling any task put before her and was offered a full-time role that she accepted.
"My learning agility, my adaptability, my work ethic — it was unparalleled in comparison to other people," Thomas said. "My ability to deal with change — things that would unnerve other people— for me it was just another day at Darden."
Thomas remains engaged with Darden, having served on alumni committees in various capacities and rarely missing a Reunion. The School today feels different, she says, certainly more diverse and more global in its outlook and makeup.
The environment feels substantially changed from a place she looks back on with complicated mix of emotions.
"When I say that Darden was my best-worst experience, it truly was, but I grew as a result of that experience and I learned so much about myself," Thomas said. "I wouldn't trade it for anything."