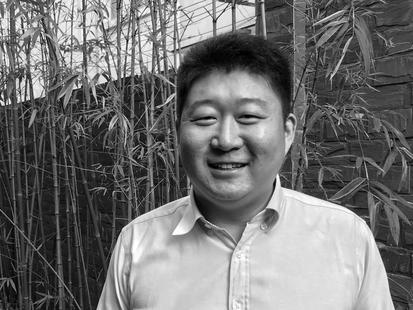 Jiabin "Danny" Ji
MBA '14, Strategy and Business Development Manager, Corning
After Jiabin "Danny" Ji (MBA '14) came to know the University of Virginia Darden School of Business and its transformational learning experience firsthand, he left Grounds determined to introduce the experience to more of his peers in China.
Ji has been a powerful force for the School in his home country, recruiting prospective students, working with the UVA China Office and representing Darden in China in roles at both McKinsey & Co. and Corning Inc.
The Darden experience almost didn't happen, however. 
Ji, a native of Taiyuan, the capital and largest city of China's Shanxi province, studied aeronautics at Beihang University and worked as an industrial consultant at a manufacturing company and as a project engineer at Mars Inc. in Beijing after his undergraduate experience. When he decided he wanted a future in management, he debated whether to pursue additional schooling in China or the U.S.
"My aunt earned a Ph.D. in the U.S. and influenced me to take a hard look at U.S. schools, because she believed the U.S. had the best higher education, especially in business," Ji said.
Ji looked at a number of top MBA programs in the U.S., but the more he learned about Darden, the more he liked what he saw. Ji met with Darden alums such as Jerry Peng (MBA '03), and experienced a case with Dean Emeritus Bob Bruner during Darden Days, when admitted students learn more about the School. Ji said the experience gave him a chance to learn the "power and charm" of the case method.
Ji came to Darden with the support of the Chesapeake Corp. Foundation Fellowship.
"I never thought about scholarships when I applied," Ji said. "It was a huge surprise to me, and I felt honored. It is not only about the money, but also Darden's commitment to international students."  
Ji interned at eBay in the San Francisco Bay Area during the summer after his First Year and took a job as an associate at McKinsey & Co. in Shanghai after graduation, continuing his management training as he put his Darden courses to work in the real world.
After two years at McKinsey, he joined the high-tech glass manufacturer Corning with a position in internal strategy with a management track.
Ji is now a strategy and business development manager in a country that accounts for 20 percent of Corning's global business and represents the majority of its growth. Corning is one of the largest producers of LCD TV screens and produces optical fiber and the "Gorilla Glass" found on every Apple iPhone and iPad.
Said Ji, "There's a lot of growth here, and it's exciting to work on global strategy for a company that produces optical fiber that powers the Internet and glass that is changing the face of consumer electronics."