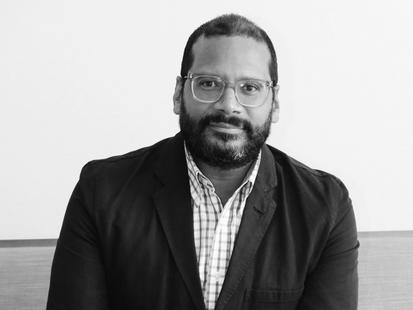 Christian Duffus
MBA '00, Founder, Fonbnk
Industry
Entrepreneurship
Former Refugee Taps Tech to Provide Banking for Today's Displaced People
Amid political rioting in 1970s Jamaica, Christian Duffus (MBA '00) fled with his parents from their home in the middle of the night, belongings packed into a shipping container that sailed to meet them in America. Being a political refugee has shaped his approach to business, which goes beyond the bottom line.
Duffus has co-founded and sold three financial technology businesses, each with a social mission at their core. The most recent exit was LEAF College Savings, a provider of digital employee benefits that help families better manage the high cost of higher education and participate in the American Dream. It was acquired by leading online personal finance company SoFi in August 2019. 
"The common thread through my career is a desire to make people's lot in life better," says Duffus. He also founded the nonprofit Scholars Club in southwest Florida, which over the past 20 years has helped hundreds of thousands of students deemed at-risk graduate from high-school and also obtain a college education. 
The subject of education is close to his heart, since his parents were the first in their family to go to university (both earned a Ph.D.) and he went to U.S. public schools. Duffus says he wants to close an "information asymmetry gap" in which people with means have better access to information than people without. 
As well as having a social focus, his businesses are mostly in financial and wireless technology. The latest incarnation of his twin passions of purpose and finance is Fonbnk, which uses technologies like the blockchain to address financial inclusion on a global scale. 
Fonbnk is targeting the world's unbanked citizens, especially refugees. "One in five displaced people have access to a phone. People are heavily connected," says Duffus. "We remove barriers that have plagued people around the world for centuries. There are two billion unbanked people in the world and 8 billion activated sim cards. In refugee camps, you might have zero bank penetration but 100 percent sim card penetration."
Duffus started his career at Goldman Sachs after his father, a business school professor, dissuaded him from becoming an architect. He sees finance as a force for good in the world, despite the bad rap the sector gets for its role in the 2008 financial crisis, and believes it's possible to bridge positive societal impact and profit.
"Leveling the playing field for human beings who have historically not had access to banks and the internet by using my background in finance and technology is a tremendous market opportunity and, ultimately, not a bad thing," he says. "Impact can be sustainable."
This is, in part, what led him to Darden in 1998. The School places ethics and corporate social responsibility at the core of its teaching framework.
You do not need an MBA to build a business, he says, but the Darden network helped Duffus to do it. Finance Professor Mark Eaker, who taught Duffus at Darden, introduced him to his fellow co-founders of payment provider Govolution, which First American Payment Systems bought in 2005. 
Duffus also singles out Darden Professors Sankaran "Venkat" Venkataraman and James Clawson for helping him to become a better leader, able to rally a team behind a vision.
"It's simple to put together a spreadsheet or a presentation, but it's artisanship to lead people to accomplish these big, audacious, hairy goals. We learned this at Darden." 
Keen to give back to his alma mater, Duffus is still active in the Darden community, serving as a member of the Alumni Association Board of Directors since 2010. "Education is not just a point in time," he says. "There's all this learning that continues to occur. That's one of the reasons I still utilize Darden and continue to learn from my peers. That's why I'm really engaged." 
What might Duffus' next venture be? "Expect more of the same, but I'd like to be more globally focused. There are still many problems throughout the world that need to be addressed. My purpose is to continue being a contributor – even in a small way – to finding the right solutions."