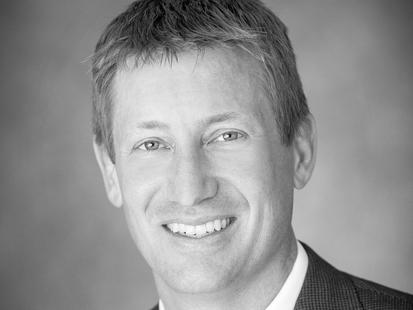 Chris Linthwaite
MBA '00, CEO, Fluidigm
When Chris Linthwaite (MBA '00) was 12, he was hit by a car while riding a bike. "I was fortunate in many respects," he recalled. "I had a head injury and four bone fractures, including a damaged growth plate that left one leg shorter than the other, but I lived."
The accident left him in and out of hospitals for years. His long recovery, combined with his intellectual curiosity, exposed to him a myriad of challenges facing health care professionals. "I started asking doctors, 'Why can't you have a portable X-ray scanner? Why does each picture have variable qualities? Why isn't my bone healing? They couldn't explain it, and I realized that they were really smart, but they were limited by the tools they had." 
That experience spurred Linthwaite's lifelong interest in science and health care, informing most of his career choices. 
As an undergraduate at the University of Virginia, Linthwaite volunteered at UVA Medical Center. "I began to understand," he said, "how hospitals work and what it really means to be a doctor." He realized that a career as a physician wasn't the best fit. After a stint as an armor officer in the U.S. Army, where he served with distinction in NATO's peacekeeping operations in Bosnia and Herzegovina, Linthwaite enrolled at Darden.
"After I left Darden," he said, "I started in strategy consulting. However, a fortuitous meeting changed the course of my career and opened the door wide for entry into the life sciences field. I was fascinated by the business aspects of science and health care."
In 2002, while working in Buffalo, New York, Linthwaite had the chance to test his entrepreneurial skills. He co-founded an accelerator focused on helping startups commercialize scientific discoveries in the field of genomics — the branch of molecular biology focusing on the structure, function, mapping and measurement of genetic information.
"All those advances in computational power and the emergence of DNA sequencers were spawning new scientific insights and a corresponding need to translate genetic discoveries into business applications," said Linthwaite. He spent 18 months in his venture before joining a fast-growing, Nasdaq-traded molecular biology company, where he led teams focused on assessing the commercial viability of scientific discoveries and designing business models for those innovations.   
Over the next several years, Linthwaite held leadership positions across the company as the organization quickly evolved into a global leader that was eventually acquired by Thermo Fisher Scientific.  
"I have been involved in some of the most exciting trends in biology over the last 20 years," said Linthwaite. "I initially worked in drug manufacturing. I built a series of businesses that enabled the large-scale production of biologically active drugs — drugs that are produced by harnessing the power of cells and molecular biology techniques and now represent more than 50 percent of all drugs in development today. As time passed, I shifted my focus to the field of science that is driving the explosion in drugs — genomics and proteomic discovery. As I progressed to more senior roles, my job shifted from building new business lines to leading larger organizations where I spent my time working on culture and talent development, which enabled us to unlock the latent potential of the company and our people." 
Working in biotech required Linthwaite to hone his ability to deal with risk. "A lot of times," he said, "you start out not knowing if you're going to be successful or not. It's all about risk management and the deployment of resources, both human capital and financial capital against a risk continuum."  
An exciting risk and challenge came in the form of Fluidigm Corp., a biotech company that develops and manufactures innovative technologies for biological research. Among other things, Fluidigm's tools enable translational and clinical research in oncology, immunology and cancer immunotherapy. 
To Linthwaite, Fluidigm represented the convergence of two career goals. "First, I wanted to have an opportunity to be CEO, to lead my own organization, whether public or private. And second, what was really important to me was Fluidigm's potential to have a real impact in health care." 
After taking the reins as CEO in 2016, Linthwaite focused on increasing the pace of commercially relevant new product innovation, generating operational efficiencies and improving financial discipline to stem cumulative losses of more than $500 million.
"The organization was in turmoil, facing a major liquidity crisis as well as problems in its flagship product line," he said. "We worked quickly and decisively with numerous changes and initiatives. The road was rocky, but our efforts began to bear fruit after 18 months. We've probably tripled or quadrupled the value of the company in the period after we reignited growth with new products." 
The newly-minted CEO was also determined to transform Fluidigm's culture to foster innovation and partnerships. Said Linthwaite, "I wanted to figure out ways to build a team to have a sustained and broad impact on health care. We're combining multidisciplinary technologies that cut across biology, chemistry, computational algorithms, hardware design and material science. This type of innovation is a team sport, and the questions we're trying to answer are bigger than any one person or any one organization could tackle."
What drives Linthwaite today? 
"For me, it's about, 'How do you make a difference — do things faster and bigger than anyone dare imagine?'" he said. "Fluidigm's approach to doing that is developing better and better tools for identifying novel drug targets, therapeutic biomarkers and treatment strategies targeting protein and genomic information in our immune system. We want to get these tools into the hands of physician scientists who will make the world a healthier place for all of us.  The intersection of science, entrepreneurship and health care needs inspires me. My Darden training gave me the tools to transform these interests into a rewarding career."