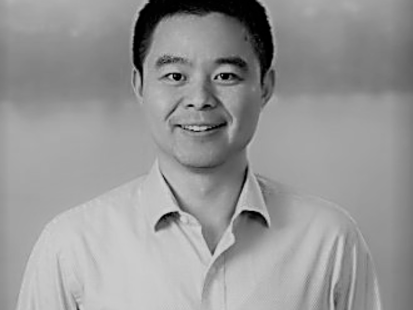 Chong Xu
MBA '14, Principle, F-Prime Capital
Double Hoo Chong Xu (MBA '14) is using his global background, Ph.D. in cell biology (2009) and MBA from Darden to make a difference in the health care field, which he notes is "a fascinating industry that is going through a lot of changes and needs a lot of talent both in the U.S. and Asia."
While the opportunity to conduct research on signaling proteins in cancer development originally brought Chong to Charlottesville, he returned a few years later to build his leadership skills and business network. While at Darden, Chong won the 2013 Darden Venture Capital Investment Competition; spent a quarter on exchange at Bocconi University in Milan, Italy; and served as president of the Asian Business Club, vice president of careers for the Darden Healthcare Club and as an elected international student representative. Chong travels frequently between the U.S. and Asia in his current position, analyzing potential investments and managing health care and IT portfolio companies. 
What was your path to Darden like? 
I grew up in China, worked in Singapore as a research biologist, and came to the U.S. to get a Ph.D. in cell biology at UVA. After a few years, I realized that I would like to pursue an alternative career outside of academia. I got my Ph.D. in 2009 when there was no job market. I was lucky enough to join a small hedge fund in New York City to invest in public health care companies. After a couple of years there, I came to Darden to get some systematic business education and also to grow my professional network. Initially, I thought I would join a big biotech company after completing my MBA. My path changed when I was recruited by McKinsey & Co. to do a summer internship in their Boston office and ended up joining them full-time after graduation to serve health care clients on strategy and R&D.  
How has Darden helped you grow your professional network, and what impact have those connections had on your own development?
I received a lot of help while at Darden from professors, the Career Development Center, the alumni network, as well as peer students such as Second Year coaches and my classmates. It is not just with job search. I had some great mentors who really impacted the way I thought about career development and path, and some friends who I enjoyed working with while at Darden and still bounce ideas off of today. The Darden alumni network at McKinsey also provided a lot of support while I was there. I am also continuing to tap into the Darden alumni network to grow my professional network in health care.
What are a couple of favorite memories from your of time at Darden?
There are tons of great memories from Darden. Some of the classes I enjoyed the most are Professor Yiorgos Allayannis' "Financial Institutions and Markets;" Professor Frank Warnock's "Global Financial Markets" and "Advanced Global Financial Markets;" and then i.Lab at UVA director Philippe Sommer's health care class, which was a class of a dozen or so people small enough to have at his house over drinks and dinner, having discussions with and learning from health care entrepreneurs and veterans. I also enjoyed working with classmates in the various case competitions, and getting to know a lot of friends at the Asian Business Club at Darden.  Last but definitely not least, I would not hesitate to recommend Global Consulting Projects (GCP) and Darden Exchange programs to anyone. I enjoyed every minute of my exchange at Boconni University in Milan, Italy (though my Italian is still pathetically limited to counting numbers 1–10), as well as my GCP to Tunisia working with a few close friends at Darden on a World Bank project to deliver e-books to poor children.
What are you up to now?  
I joined my current company, F-Prime Capital, after spending a great one-and-a-half years at McKinsey. F-Prime is a Cambridge, Massachusetts-based early stage health care venture capital company and is part of Fidelity Investment, a global asset management company. F-Prime invests globally, including in the U.S., European Union, China, India and Japan. I split my time — a big part of my current role is to manage investments and opportunities in Asia — flying between the U.S. and China and really getting to see the health care and biopharma industries on both sides of the ocean, using my Chinese origin and background in life sciences and health care.  
What do you think are the biggest challenges (or opportunities) in global health care today, and how can business help?
The global health care industry is going through fascinating challenges and changes. Here in the U.S., the biotech industry is harnessing the latest research findings in gene editing and immune-oncology to develop potential cures for diseases such as cancer and diabetes, with topics such as drug pricing and rights to health care occupying headlines and political agendas. Health care IT companies are trying to use big data and smart digital solutions to streamline care delivery coordination and develop new business models. In many other parts of the world such as India and China, access to quality care is still the central problem, where entrepreneurs are developing innovative solutions to provide insurance coverage, develop and deliver quality drugs and medical devices, and use digital and mobile tools to optimize health care resource usage. As any other industries that are going through changes on a large scale, the health care industry needs entrepreneurs and business leaders to help make things happen.
What kind of impact would you like to make in your career? 
My career goal is to be able to say, at the end of my career, that I have played an important role in building at least one company that helped change some people's lives in a significant way.  Right now, I feel like I am on the right path as I help invest in companies that can potentially develop drugs to cure diseases or help deliver care to thousands of patients in need. My Darden experience, besides everything, taught me to always think about the big picture and listening to different views, which I believe continues to help me develop into a more effective leader.
Any advice for individuals considering an MBA?
There are a lot of things to consider when one considers an MBA degree. Do you need one? If yes, when? Full-time or part-time? Which school? What do you plan to achieve while at the business school? What jobs and careers are you interested in getting into after business school? An MBA can be extremely helpful for many in their career development. However, like any other things in life, it is not a magical answer to everything. I would suggest anyone who is considering an MBA to reach out and talk to people — friends, family, mentors, b-school admissions and career services, current MBA students and alumni — and think things through.  The more you know what to expect and what to get out of it, the more likely you would be able to get the most out of it and enjoy the process.