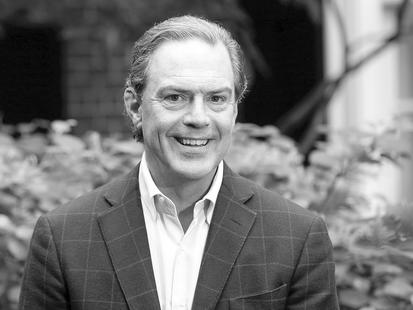 J. Byrne Murphy
MBA '86, CEO, Kitebrook Partners
Industry
Entrepreneurship
J. Byrne Murphy (MBA '86) has made a successful career by repeatedly overcoming seemingly insurmountable obstacles.
Murphy, the CEO of Kitebrook Partners and Chairman and founder of Digiplex, preaches unwavering perseverance in pursuit of an entrepreneurial vision, telling would-be and current business owners that a successful entrepreneur must "Never, never, ever give up."
Certainly, most would have forgiven Murphy if he had given up at various junctures in his career, as his work exporting the American concepts of outlet centers, data centers and private residence clubs to countries across Europe met with all manner of obstacles over the years, including vindictive politicians, extortion attempts, economic collapses and mafia interference, to cite just a few.
(Murphy chronicled his adventures attempting to open outlet centers across Europe in his award-winning 2008 memoir, Le Deal, reviewed by Dean Emeritus Bob Bruner in his blog on 4 November 2008.)
Despite the radically different products offered by each of his primary ventures, in each case Murphy ultimately succeeded in what he refers to as "playing the product lifecycle."
Murphy took concepts that, while relatively new in the United States, had almost no presence in Europe, making him confident in the steep upside for his untested products. Critically, Murphy also believed in the use cases of all of his ventures.
"If you are pioneering a really good concept in a new market, how much of real consequence can really go wrong?" Murphy asks, somewhat in jest, given all that did go wrong in his ventures. "Everyone wants Dior at half-off!"
Moreover, Murphy says, if there are only a few obstacles standing between your new idea and "the adoring public," the entrepreneur should never give up.
In Murphy's case, the adoring public has been represented by those outlet shoppers who want their discount couture, tenants such as NASDAQ who require consistent and secure data centers, and luxury buyers who eager to live in a 15th century Florentine palazzo that was once home to the Medici family.
Murphy, who eventually grew the outlet center and data business centers into businesses each with over $1 billion in assets under management, credits what he described as broadly American attributes of pragmatism, optimism and realism for his success, but also cites the specific skills honed at Darden — even if he didn't realize their importance at the time.
Indeed, Murphy describes classes in analysis and communication and organizational behavior, respectively, as among his most important classes, in hindsight.
As an entrepreneur seeking to create an engaging company culture which reinforces high performance, those who are deficient in "people skills and communication skills" will be at a severe disadvantage, Murphy says.
Encouraging others to pursue their entrepreneurial leanings despite the odds and obstacles, Murphy notes that while the born entrepreneur will never regret having tried and failed, he or she would bitterly regret never having tried.