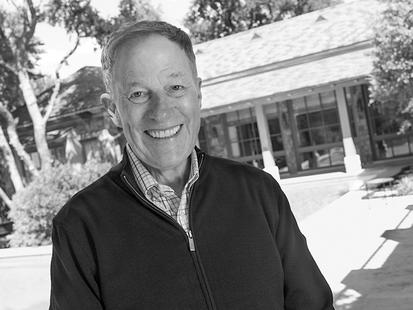 Bob Woodworth
MBA '73, Former President and CEO, Pulitzer Inc.
It was the height of interview season, with tensions running high as classmates competed for jobs, when Bob Woodworth (MBA '73) set his sights on finding a smaller company that was truly entrepreneurial. He asked University of Virginia Darden School of Business Professor Dan Newton, renowned for his intimidating presence in the classroom, if he knew of any such companies. 
Newton knew of one: Capital Cities Communications. Before long, Woodworth had an interview and "was smitten." He accepted a position and spent much of his career at the small, public company that shocked the media industry when it acquired the much larger American Broadcasting Company (ABC) in 1985.
Woodworth later became president and CEO of Pulitzer Inc., which operated newspapers, television stations and radio stations. In 2005, he helped lead the sale of the company.
The uncompromising ethical principles Woodworth learned to appreciate at Darden formed the underpinning of his future success. "There was really a clear expectation that ethical issues were an inviolate part of the Darden culture," he said. "I might have been a bit of a wild hare when I arrived at Darden, so it definitely created a strong impression."
Woodworth grew up in Kensington, Maryland, a quiet suburb of Washington, D.C. He quickly learned to fend for himself after his father passed away when he was 14, and his mother suffered from serious health problems. To make ends meet, he waited tables, poured concrete, tarred roofs and worked in a warehouse, all of which taught him how to work collaboratively with others. Looking back, he said he was "raw and unpolished" and lacked the financial wherewithal to afford a graduate education.
"Darden's Dean John Snook really went to bat for me. He understood my position," said Woodworth, who attended the School thanks to scholarships and financial aid. "I feel a great deal of loyalty to Darden."
That loyalty has led Woodworth and his wife to make a $1.5 million bequest to the School. "We're betting on the future generation of brains" to be "good corporate and community citizens," he said, quoting an old Capital Cities mantra.
And in the age of "fake news" and "alternative facts," the retired media veteran encourages the next generation to "follow the course that you intuitively believe is right" when faced with a challenging decision, particularly when it involves ethical issues. "It may be different than what you can get approved or what others are encouraging," he said. "It's seldom easy and often unpopular, but it pays off in the long run."