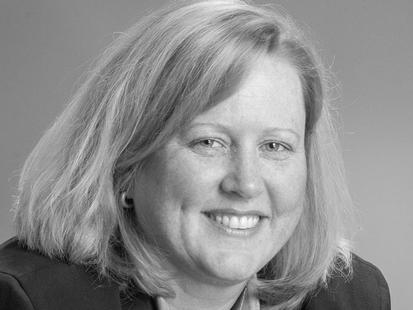 Allison Cryor DiNardo
MBA '88, Founder and President, King Street Wireless
Allison Cryor DiNardo (MBA '88) is founder and president of King Street Wireless. Located in the heart of Old Town Alexandria, Virginia, across the Potomac from Washington, D.C., her company is counted among the nation's top 10 spectrum license holders, delivering wireless communications across 27 states.
She's been honored by the Washington Business Journal as "A Woman Who Means Business" — whose civic involvement has "made a difference in her community" and whose commercial achievements "have [left] a mark on Washington business."
DiNardo makes clear that her career path "wasn't exactly linear or the result of a well-executed plan," although she explains," it wasn't all just serendipity either." Unlike many alumni who had specific career plans on graduation day, DiNardo's more free-form graduation goal was simply to "find out what was out there, to look into the possibilities … and to follow the opportunities that came my way. 
"Since then, my career has had a positive energy and flow, fueled by leveraging different opportunities, building strong connections with the people behind them and learning all that I could."
Her career path has been a study in professional contrasts. From her early days as President George H.W. Bush's deputy associate director of presidential personnel at the White House, handling political appointments for four years, through her time managing UVA's $165 million athletics capital campaign to her accomplishments as an entrepreneur, DiNardo sees each of these seemingly disparate jobs as unified from the perspective of strategy. Her service as a civic leader, including four years on UVA's Board of Visitors and chairing Alexandria's community foundation and its economic development partnership, have also added to her knowledge base.
"In each instance, you're asking yourself, 'What's the goal here? How do I achieve it? What are the options? The assets? What are the risks, and are they worth taking? How do I optimize my work, my organization? Who else can help?'"
She points out, "That's how Darden prepares you. It gives you the chance to study so many different companies, so many different industries … and concentrate on their different goals. You learn how to nimbly move forward to reach your objectives, no matter whether you're working in government, academia or business." 
Ultimately, DiNardo found the opportunity she was looking for in 1999 with Darden classmate Mark Kington (MBA '88), who was a partner at Columbia Capital — an Alexandria-based venture capital firm focused on the then-emerging wireless communications industry.
She took on the challenge of wireless spectrum acquisitions by recruiting the best people, balancing creativity with organizational order, sizing operations for maximum profits, and making decisions that made good companies better and turned faltering ones around.
DiNardo subsequently found her niche as an entrepreneur, and has since made her mark in the highly regulated, highly competitive telecommunications industry where she's started, managed, acquired and sold various companies. Today her largest company, King Street Wireless, provides 4G LTE service to millions of customers as the controlling general partner in a joint venture with US Cellular, the fifth largest carrier in the country. And with Beth Moffett (MBA '88) handling the financial side of the business as company controller, DiNardo sees no limit to what they can achieve.
The nature of the business requires DiNardo to work closely with a number of federal agencies so she sees Darden's presence just across the Potomac River in Rosslyn, Virginia, as a significant opportunity to be mined.
"As Darden puts itself at the crossroads of politics, business, technology, academia and government, it's creating more opportunities for its students, faculty and the School in general. I'm excited for its future. It's a welcome initiative here in D.C."  
With firsthand knowledge of the government's influence in today's business environment, she wonders, if surveyed, how many alumni would say the federal sector has touched their work in ways they hadn't anticipated during their MBA days. She thinks the percentage would be high.
"The bottom line is that the business of government is part of our economy, and its relationship to the business world is critically important because the two sectors have to work in sync to meet both of their goals."  
DiNardo credits Darden with the knowledge and know-how that underwrote her business successes, and she credits its close-knit alumni community with the support, camaraderie and connections that often drive success.
"So much of business is about relationships. And whether you realize it or not while you're a student, that's what Darden teaches — relationship building. It starts on day one with your learning team. You soon realize that they're not your competitors but your alter egos, your partners and, more often than not, many will be your lifelong friends.
"As you start out, you quickly come to understand that you don't have to know all the answers. You just have to learn to reach out to someone on your team, to someone in the class ahead of you, to faculty. And that's part of Darden's unique approach to teaching, where you can learn as much from your classmates as you do from faculty."  
DiNardo highlights the fact that, even today, she still has a great support team that she knows she can count on. "My classmates from Section D and my study group —  and others one-step removed — are always there to share their thoughts and give me advice when I need it. But that's the Darden way. We invest in each other's successes." 
"You leave Darden with no doubt about your competence and ability to sort through things — priorities, issues, problems, assumptions, risks — whatever challenge you're facing. You know you won't let yourself get bogged down or stymied; that you can make a reasoned decision with the information at hand and go with it."
Professor Emeritus John Colley Jr. figures prominently in her ability to make good decisions. From the time Darden's doors were first opened to women, "he wanted us to succeed," she says. "Mr. Colley was an advocate, a mentor who each year would 'adopt' a few women students. At First Coffee, he would make it a point to ask, 'So how's it going? What are you learning?' and he'd always be willing to offer his thoughts, suggestions, or a word or two of support."
DiNardo illustrates his imaginative way of interacting with his students by a story about how one weeknight, while she and a friend were studying in the library, Colley came by.
"You and you," he directed us, "come with me." 
"Where are we going?" we asked anxiously, wondering if there was some sort of problem.
"To the basketball game, I've got two extra tickets."
DiNardo recounts, "So instead of feverishly studying our cases for the next morning, there we were, two basketball fans, cheering from courtside seats while every faculty member we were going to see in classes the next day walked past us saying hello to Mr. Colley, with a nod to us. And as they did, I had no doubt in my mind that each one had made a mental note to specifically call on us! Fortunately, we survived and learned how important it was to participate in the full Darden experience." 
Years later, she asked Colley, "When you decided to take women students under your wing, what was it that you hoped you could give them?" His answer: 'Just one thing — confidence.'" Says DiNardo: "He was right and what a difference it has made for so many of us."