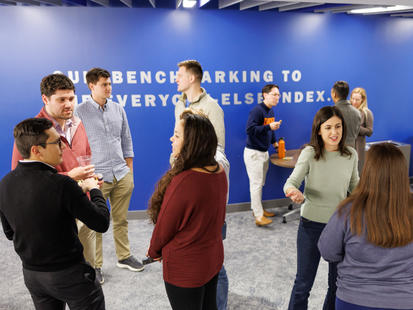 Part-Time MBA
Part-Time MBA - Culture and Community
Culture & Community
As a Darden Part-Time MBA student, you will learn alongside ambitious peers from a variety of backgrounds, industries and job functions. The Part-Time MBA Student Association (PSA) is formed of students who help cultivate the community in many ways.
Introducing the Part-Time MBA Student Association
Mission Statement: The PSA empowers our classmates to have transformational learning and life experiences by enabling lasting traditions, advocating for opportunity, and delivering meaningful connections across the Darden community.
PSA Board Members: Maxwell Godwin, Parker Lapeyre, Elias Samaha, J.R. Rodrigo, Krista Bridgens, Kirby Landon, Eugene Cho, Aman Dar, Blair Wilson, Jason Carrier
To email the PSA Board: PSA@darden.virginia.edu
Meet the students of Darden's first Part-Time MBA during a recording of a student panel. In this session, you will hear insights about current students journeys and their experience in the latest format of the Darden MBA.
Get to know the PSA from co-presidents Parker Lapeyre and Max Godwin from the Darden ExecMBA podcast.