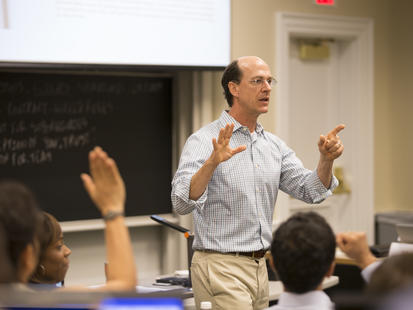 The Darden Ph.D. Program
Ph.D. - Strategy, Ethics & Entrepreneurship
Strategy, Ethics & Entrepreneurship
Darden's Strategy, Ethics & Entrepreneurship (SEE) Ph.D. Program connects these three fields of study. We bring a unique Darden perspective to creating and sustaining value - not only for the firm, but for stakeholders associated with the firm and for the society within which the firm operates.
Students in the SEE Ph.D. Program will be mentored by some of the leading business faculty in the world. Darden's SEE faculty through in-depth research and practical experience, integrate powerful theoretical concepts with rigorous, state-of-the-art methods. We push students, scholars and managers to rethink taken-for granted mental models and uncover promising new possibilities.
The design of new sources of value creation including new products, new ventures, new markets and even new opportunities
Sustaining, growing and sharing value over the lifecycle of firms
Learning to weave together values, value creation and strategic innovation within a distinctive way of thinking about business and the role it plays within society
While emphasis is placed on the intersection of these topics, students will choose one of three tracks:
Strategy
Strategy equips students with the framework, concepts and tools required to think strategically about the total enterprise and lead the creation of new futures. We focus on how to create value for customers, analyze industry structure and identify sources of uniqueness and competitive advantage. To this, Darden adds a unique focus on innovation, governance, organic growth, and sustainability.
Ethics
Ethics enables students to reason about the role of ethics in business in a complex, dynamic and global environment. Business and ethics, when rightly understood, are things that tend to go together rather than forces that are fundamentally at odds: business can be viewed as how we live out our values in connection with others - and as dynamics that can foster better and richer forms of cooperation. Darden stands out as a place known for work on stakeholder theory, American pragmatism and the role of ethics in business.
Entrepreneurship
Entrepreneurship is not just about starting companies, but about developing the entrepreneurial mindset: doing more with less as well as doing more with what you have. Key concepts here include idea generation, prototype development, obtaining funding, team building, business planning and risk management. To these, Darden adds entrepreneurial expertise and effectual logic and market-based solution for social issues.
Strategy, Ethics & Entrepreneurship