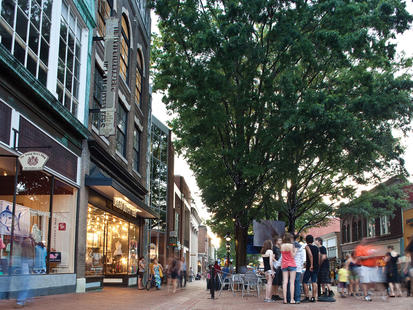 Charlottesville, Virginia
About Darden - Charlottesville Housing
Housing in Charlottesville
Housing Information
There are multiple housing options for students in Charlottesville. While most students tend to live off-Grounds, UVA offers limited housing options for students who want to live on Grounds.

Use the guide below to learn more about neighborhoods in Charlottesville.
Close to Darden
Distance from Darden: 5 minute walk
There are a variety of apartment complexes on Arlington Boulevard, Ivy Road, and Old Ivy Road that are within walking distance of Darden. They offer a range of options from dorm-like accommodations to larger townhomes. There are several housing options on or near Barracks Road and Lewis Mountain Road.
Rugby Road/ Preston Avenue/ The Corner
Distance from Darden: ~5 minute drive
Centrally located between the Downtown Mall and Darden, this neighborhood offers several house, townhouse and apartment options. Please note that there are a lot of undergraduates living in this area.
Hospital/ Jefferson Park Avenue (JPA)
Distance from Darden: ~5 minute drive
This area includes a variety of housing options that put you in close proximity to the football stadium. This is a popular area for graduate and undergraduate students to rent houses.
Downtown Mall/ Midtown/ Belmont
Distance from Darden: ~10 minute drive
Charlottesville's Downtown Mall, Main Street and Belmont areas have numerous restaurants, shops and music venues. As the business and cultural center of Charlottesville, this area is home to more working professionals and has a more cosmopolitan feel than areas closer to UVA.
Charlottesville Countryside
Distance from Darden: ~10-30 minute drive
You can't go wrong in the beautiful Blue Ridge Mountains surrounding Charlottesville! Options range from renting or buying houses to complexes, such as the Woodlands and Jefferson Ridge Apartments.
UVA Student Housing 
Distance from Darden: ~5 minute walk

The University offers housing for graduate students that provides the convenience of on-Grounds living in an active, safe, and friendly community. You can learn more about housing options and the application process via the UVA Student Housing website.