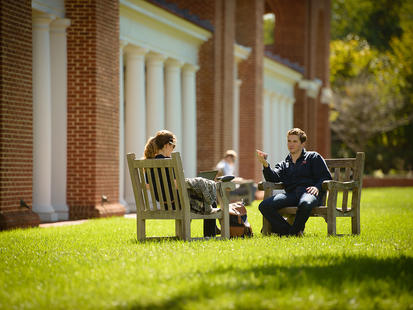 Charlottesville, Virginia
About Darden - Location - Charlottesville - Grounds
The Darden Grounds
An Oasis for Learning
Nestled among the Blue Ridge Mountains, Darden offers students an ideal learning environment. The bucolic Grounds are both a quiet haven away and a hive of activity, a place where contemplation and personal growth are fostered.
Designed by renowned American architect Robert A. M. Stern to complement Jefferson's aesthetic vision for UVA, the Darden buildings feature sand-struck Virginia brick, Chippendale balustrades and red-metal standing seam roofs. 
The Darden Grounds were designed to inspire students, faculty and staff to collaborate and innovate together in a space of mutual respect and understanding.
The School's facilities include:
Elegant dining facilities that can accommodate banquets for up to 400 people
A 450-seat multimedia auditorium
340,000 square feet of space
Camp Library, with more than 100,000 volumes, 1,100 periodicals and 120 online databases
A professional-grade video production studio
Explore the Darden Grounds. For an in-person visit Darden resources. You can also tour the Grounds virtually.