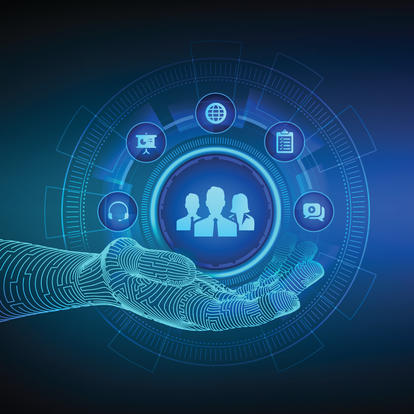 In-Person
Communication Strategies to Manage Crisis, Disruption & Transformation
Reimagine your organization's strategic communication approach to effectively navigate constant disruption.
Overview
The stakes for an effective communication strategy only get higher in a crisis.
This program will help you build a framework to prepare for the next disruption and better articulate your organization's value proposition, competitive advantage, or strategic transformation — elements that position your organization to step up and stand out during periods of upheaval or progress.
Even before the COVID-19 pandemic upended organizations across industry, many have struggled to communicate their approach to disruption and risk mitigation.  Equally problematic, many are challenged to communicate a clear narrative and rationale for their strategic transformation efforts, which are being driven by disruptions from competitors, technologies, new business models and evolving consumer expectations.
Intended For
Senior Management, Executive, C-Suite
Focus
Management Competencies
Location
In a world where social media and 24-hour news have significant impact on public perception, your organization needs to stay engaged with and responsive to stakeholders through thoughtful planning and approach. Unlike many communications programs that speak to personal leadership presence and how individuals present to others, this program focuses at the organizational level, helping senior communicators and their teams effectively manage the flow, tone, and cadence of communication with all stakeholders. 
This hands-on program features simulations, case studies, workshops and discussions around topics such as:
Developing Effective Communication Plans

Prioritizing Stakeholder Communication

Aligning Internal Resources for Effective Crisis Communication

Communication Best-Practices for Leaders at All Levels

Communicating New Business Models in the Face of Disruption
Impact & Outcomes
Develop effective communication plans and routines for organizations faced with sustained business disruption.

Effectively mobilize and align key stakeholders within your organization to drive impactful communication.

Train and equip front-line managers to be better communicators, empathizers and leaders during times of disruption and transformation.

Use new insights to coordinate stakeholder prioritization, outreach and communication cadence.

Incorporate the best practices from leading brands when communicating new business models and transformation strategies as a result of disruption.
How you respond and communicate in a crisis can have a lasting impact on brand reputation. Correcting communication mistakes to regain trust is a costly business. That's why it's critical to get it right from the start.
June West
Associate Professor of Business Administration
Participants
This program is designed for senior-level leaders responsible for communication to internal and external stakeholders, such as Chief Communications Officers and Chief Strategy Officers; as well as HR professionals who partner with business unit heads across organizations and investor relations/corporate relations leaders.
Certificates
The Strategic Communication program counts as one program toward a noncredit Darden Certificate in Management. Complete this program and three additional programs to earn your certificate.
Faculty
Location
UVA Darden DC Metro
1100 Wilson Boulevard
Arlington, Virginia
Materials and some meals are included in your program fee.
Lodging
Accommodations are not included in the program fee and should be arranged by the participant. Recommended accommodations include:
Hyatt Centric Arlington
1325 Wilson Boulevard, Arlington, Virginia, 22209
Tel: +1-703-525-1234
Le Méridien Arlington
1121 North 19th Street, Arlington, VA 22209
Telephone: +1-703-351-9170
Marriott Key Bridge
1401 Lee Highway, Arlington, VA 22209
Telephone: +1-703-524-6400
Request More Information
Please complete the following to request more information about this program and our lifelong learning team will follow-up to provide additional details and discuss your development needs.