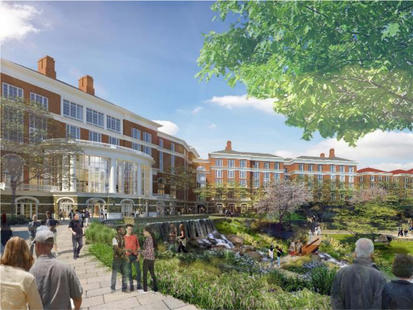 UVA Darden Boutique Hotel
UVA Darden Boutique Hotel
We can't wait to welcome you.
Now under construction and scheduled to open in spring 2023, a boutique hotel managed by Kimpton Hotels located on Darden's Charlottesville Grounds will combine Virginia hospitality and tradition, modern design, and cutting-edge learning and convening spaces that inspire.
Construction on the highly anticipated, new Darden boutique hotel began in January 2021. Located on the University of Virginia's verdant North Grounds, within a five-acre arboretum and botanical gardens, the landmark property will be near to, well, everything UVA, and will capture the essence of the beautiful town of Charlottesville, Virginia.
An Experience Like No Other
The new hotel will create an unparalleled setting for all kinds of experiences — including the world's best education experience for which the Darden School is so well known. The property will feature:
199 hotel rooms and suites
Over 19,000 square feet of meeting space, including a 6,500-square-foot ballroom 
Flat and tiered classroom spaces
Destination restaurant, with private dining room  
Pub, sports bar and coffee shop
Five acres of natural green space featuring an arboretum and botanical gardens that will connect the Darden Grounds, UVA School of Law Grounds and the Rivanna Trail
L'Orangerie and rear terrace with an elevated view of the arboretum and botanical gardens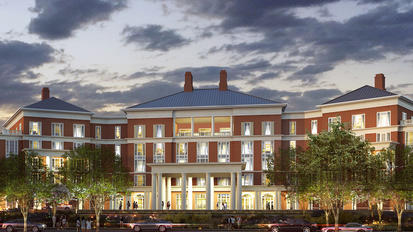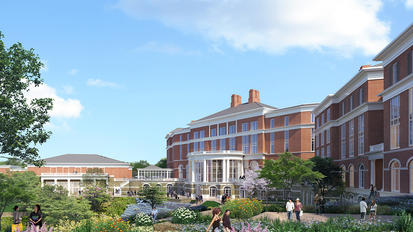 The boutique hotel will feature state-of-the-art learning, meeting and event spaces, including flat and tiered classrooms, a conference center and an executive board room.
The hotel's rear terrace will overlook a five-acre arboretum and botanical gardens showcasing species from around the world. The gardens will feature a pond and an outdoor amphitheater. 
All Thanks to Incredibly Generous Support
The construction of the boutique hotel on Darden Grounds would not be possible without the support of generous donors. Be a part of this important moment in Darden history by supporting the Powered by Purpose campaign and make your mark on this signature property.